STANDALONE PLAYERS
---
Note: Standalone players do not require Server or SaaS subscription. Annual software support and updates are $100, due after initial 12 months and each subsequent year.
Standalone SignEdge Players
Learn about the revolutionary SignEdge all-in-one media player series! With a combination of both hardware and software, this standalone player allows for you to fully administer content creation and install content store apps without any technical difficulties.

About SignEdge Players
The ll-in-one SignEdge players offer a revolutionary approach to the traditional digital signage players. Our all-in-one players are a highly affordable and practical all-in-one hardware and software solution that enables for small businesses to deliver dynamic content to their customers. The standalone players have a built-in content design and creation engine which allows for you to upload, customize, and schedule your content to be released at any time and any day withou the need of a cloud-based service or a server.
What is SignEdge?
SignEdge is a simple standalone, highly affordable bundle all-in-one hardware and software solution that enables any small business operator to quickly and very easily start communicating with customers and staff using eye-catching, impactful digital displays. The SignEdge device simplifies starting and running digital signage networks by incorporating dynamic full-creation content creation, content store apps, and management of software and player. This creates one powerful device that does it all in just seconds with zero technical training required and at an unprecedented low overall cost with no ongoing fees, taking any small business to the next level of advertising.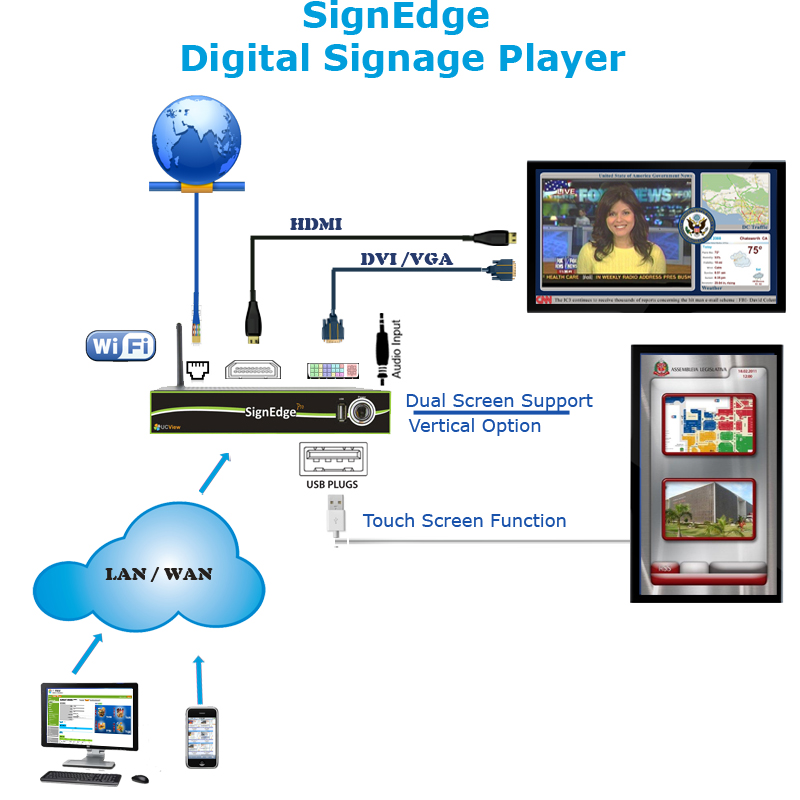 Features
SignEdge features include built-in content design and creation engine, advance touch-screen and mobile marketing capabilities, and a growing content store offering more than 50 free dynamic content tools, including RSS feeds, Twitter streams and other social media visualizations, local messaging, menu board tools and QR codes.
SignEdge is a high-functioning platform, but simple and friendly enough that anyone, even if they didn't know a thing about digital signage, can set up and manage with little or no training.
Additional Highlights
Additional player highlights include all the scheduling, distribution and management capabilities of leading digital signage content management systems with the ability to play any type of media on your digital signage network (video, live TV, images, Flash, Web pages, RSS feeds, and more) while fully supporting multiple languages such as English, Spanish and French for all aspects of the operator user experience. Plus, an easy upgrade path that's built into SignEdge's design, allowing small business users to grow their networks with their company and locations.

For those a little more tech savvy, SignEdge also features an Intel CPU with built-in graphics and Linux support and browser interface. Additional technical highlights include dual screen outputs, simple numeric string login, small form factor play unit, and built-in Wi-Fi applicable anytime, anywhere.

Once content is published, users can use additional tools like Map View feature to see where all current campaigns are being displayed anytime from anywhere. From content creating to monitoring and maintaining, our revolutionary SignEdge software player does it all. Enjoy!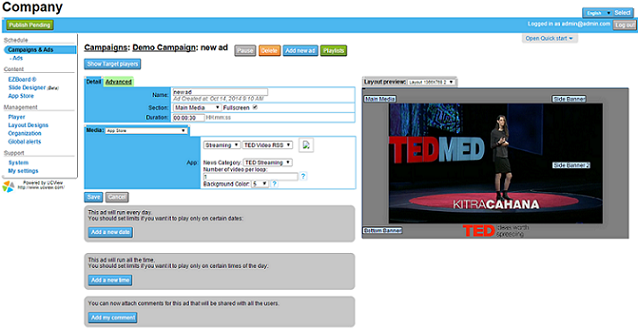 Our innovative SignEdge software player offers several benefits. The cost savings of bundling several applications and software functions into one dynamic player rival the most sophisticated subscription and enterprise platforms available on the market. Thus, this simplified solution allows a significant decrease in advertising spending and quicker realization of advertising goals. SignEdge's simple set up is designed for absolute ease of use that anyone can operate and install with little or no training in just minutes. It's incredibly fast and easy-to-use capabilities easily reduce the technical challenges associated with other software players.

The player is also small enough to easily mount behind a display panel, or inside it, using industry-standard slots available on many monitors. Additionally, SignEdge's platform is highly flexible, running on Linux.
Management of a SignEdge system is available on any standard browser making it virtually versatile to users.

Other Features



Latest Technology
The latest video technology and the performance you expect from a leading commercial 2.5GHz Intel CPU with built in graphics.


No additional fees:
There are no hidden costs with the all-in-one SignEdge media player. This all-in-one device does not require any subscription or monthly fees

Built-in content design and creation engine:
With a built-in content creation engine, have full management control over your digital signage network. Create, modify, and release content, ads, and more for your viewers.

If you choose to manage your digital signage player through your own PC, Our downloadable software package will effortlessly turn your PC into a media player. Please contact us to make sure your PC meets all the requirements to serve as a digital signage player.
Our digital signage system is highly customizable to accommodate virtually any scenario. To learn how our products can work into your scenario, please contact us at 888-925-3235